The marketing world is moving very quickly, and the options can feel complicated and murky. You know that customer information should be one of the most powerful levers for driving customer's growth and profit. The Journey 121 platform unlocks the power of your customer data. It combines your data with the entire prospect universe around your location, offering you the control, precision, and accountability you need. Journey 121 takes you effectively and efficiently into every marketing channel you desire, and gives you command over direct mail, email, Facebook, Google Ad Words, and Digital Display – automatically and simply.

Global Customer Connector
Global Customer Connector uses natural keys to connect your customers into the world of online and offline marketing channels. It takes in dirty, disparate, partial, imperfect customer data and connects it all together so it's optimized for customer journey marketing.

Journey 121 offers a connected sequence of one to one marketing programs designed to move customers along their journey with the brand by communicating the right message to each consumer based on their current position within their journey. Each consumer's message is timed and choreographed based on patterns of interaction with the franchise – very accurately predicting customer behavior based on transaction history.

Offering a discount to a customer who would have arrived on schedule and gladly paid full price is an efficiency marketers have long been aware of, but lacked the tools to prevent. Our Smarter Discounting engines are tuned to help identify which customer and prospect will visit BECAUSE of the discount and turn off the spigot of wasted investment in for those what where going to buy ANYWAY.

Journey 121 grows with the data, with the information about customer patterns yielding greater and more precise insights. This hands-on tool gives franchisees a great sense of control, accountability, and measurable results for their investments.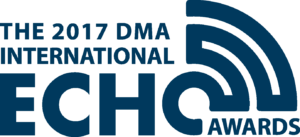 The DMA International ECHO® Awards seek out, draw attention to, and raise the profile of the most admired work from across the entire data-driven marketing ecosystem. They represent the high-water mark in talent and achievement for the data scientists, data-inspired creatives, data technologists and data-driven marketers who are creating meaningful and measurable impact on people,…
Journey 121 puts you in the driver's seat.
Find out how.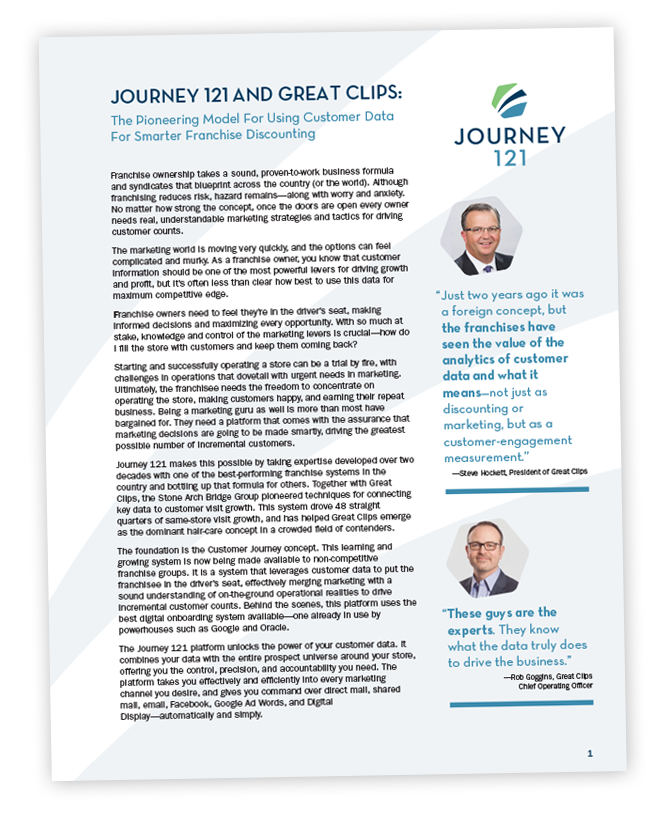 Franchise ownership takes a sound, proven-to-work business formula and syndicates that blueprint across the country (or the world). Although franchising reduces risk, hazard remains—along with worry and anxiety. No matter how strong the concept, once the doors are open every owner needs real, understandable marketing strategies and tactics for driving customer counts.
What Our Clients Are Saying:
"Just two years ago it was a foreign concept, but the franchises have seen the value of the analytics of customer data and what it means – not just as discounting or marketing, but as a customer-engagement measurement."
–Steve Hockett, President of Great Clips
"This will help franchises better invest marketing dollars. We're leveraging that money in such a better way, getting franchises to get smarter about where they put that money."
–Rob Goggins, Great Clips COO