What We Do
The marketing world is moving very quickly, and the options can feel complicated and murky. You know that customer information should be one of the most powerful levers for driving customer's growth and profit. The Journey 121 platform unlocks the power of your customer data. It combines your data with the entire prospect universe around your location, offering you the control, precision, and accountability you need. Journey 121 takes you effectively and efficiently into every marketing channel you desire, and gives you command over direct mail, email, Facebook, Google Ad Words, and Digital Display – automatically and simply.
Announcing our 2017 Echo Award – 2nd Place for Retails & Direct Sales
Awarded Second Place for the BEST RETAIL CAMPAIGN IN THE WORLD against 2,500 entries in the DMA International ECHO® Awards – presented by the Data and Marketing Association (formerly the Direct Marketing Association).  The DMA is the community that champions deeper consumer engagement and business value through the innovative and responsible use of data-driven marketing.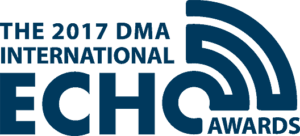 Journey 121 puts you in the driver's seat.
Find out how.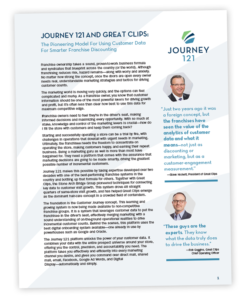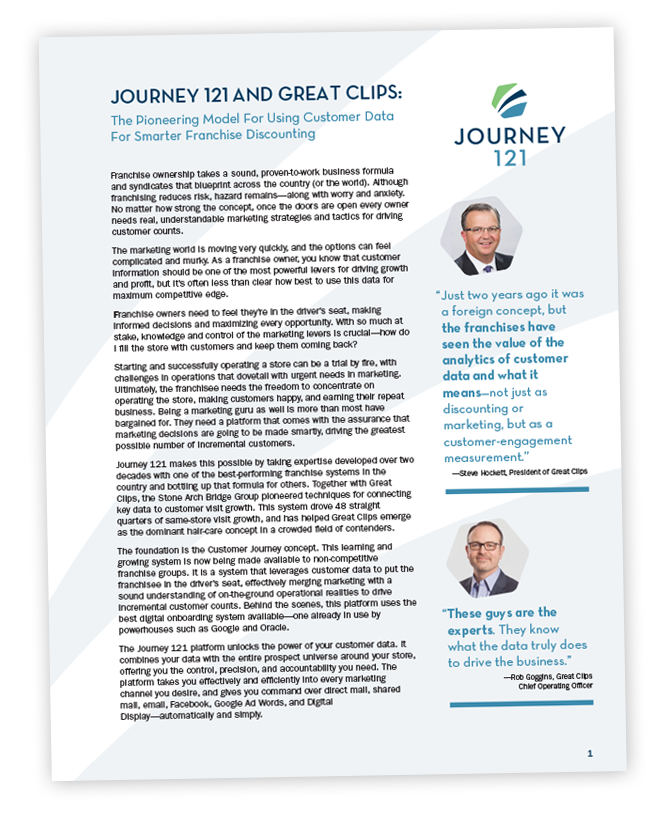 CASE STUDY


JOURNEY 121 AND GREAT CLIPS: The Pioneering Model For Using Customer Data For Smarter Franchise Discounting
Franchise ownership takes a sound, proven-to-work business formula and syndicates that blueprint across the country (or the world). Although franchising reduces risk, hazard remains—along with worry and anxiety. No matter how strong the concept, once the doors are open every owner needs real, understandable marketing strategies and tactics for driving customer counts.

What our clients are saying:
"Just two years ago it was a foreign concept, but the franchises have seen the value of the analytics of customer data and what it means – not just as discounting or marketing, but as a customer-engagement measurement."
–Steve Hockett, President of Great Clips

What our clients are saying:
"This will help franchises better invest marketing dollars. We're leveraging that money in such a better way, getting franchises to get smarter about where they put that money."
–Rob Goggins, Great Clips COO